As a result of aggressive rally bitcoin (BTC) reached a high of $11 394. However, further price growth has stalled, and she began a gradual rollback.
Consolidation after growth
Bitcoin has formed on the daily chart bullish candle absorption, reaching up to a high of $11 394 and thereby breaking the previous long-term area of resistance.
After this candle the rate of BTC has formed a small bearish candle with wicks on both sides. This is an indication of market indecision and the inability of prices to continue rising.
Technical indicators demonstrate that, despite the over-aggressiveness of growth, the trend still shows no signs of abating:
Bitcoin is trading significantly above its 50-day moving average (MA), made possible by the scale and speed of growth.

The RSI is significantly overbought, but shows no bearish divergence.

MACD momentum continues to grow.
Thus, the daily trend remains cautiously bullish.
For shorter time frames (6-hour chart) the signals look very contradictory.
The bitcoin exchange rate is reduced after achieving a high of $11 394, leaving on the chart long wicks on both sides of the body of the candle. Yesterday the market formed a bullish inverted hammer followed by a bearish hammer. Accordingly, these two figures are mutually neutralized each other.
Indicators show weakness, but these signs are not yet enough to signal a reversal. MACD has lost strength, but a bear crossing has not yet occurred. The RSI is beginning to signal a bearish divergence, but they have not yet been confirmed.
Where next?
After achieving the above-mentioned maximum rate of BTC is trading within a symmetrical triangle. Due to the long upper wick of this maximum we cannot accurately determine the slope of the downtrend resistance. Possibly, price has already broken this pattern. The same is true for the slope of the line support.
Formation rising high above $11 200 will be an important indication of bullish breakout and will lead to a new phase of growth.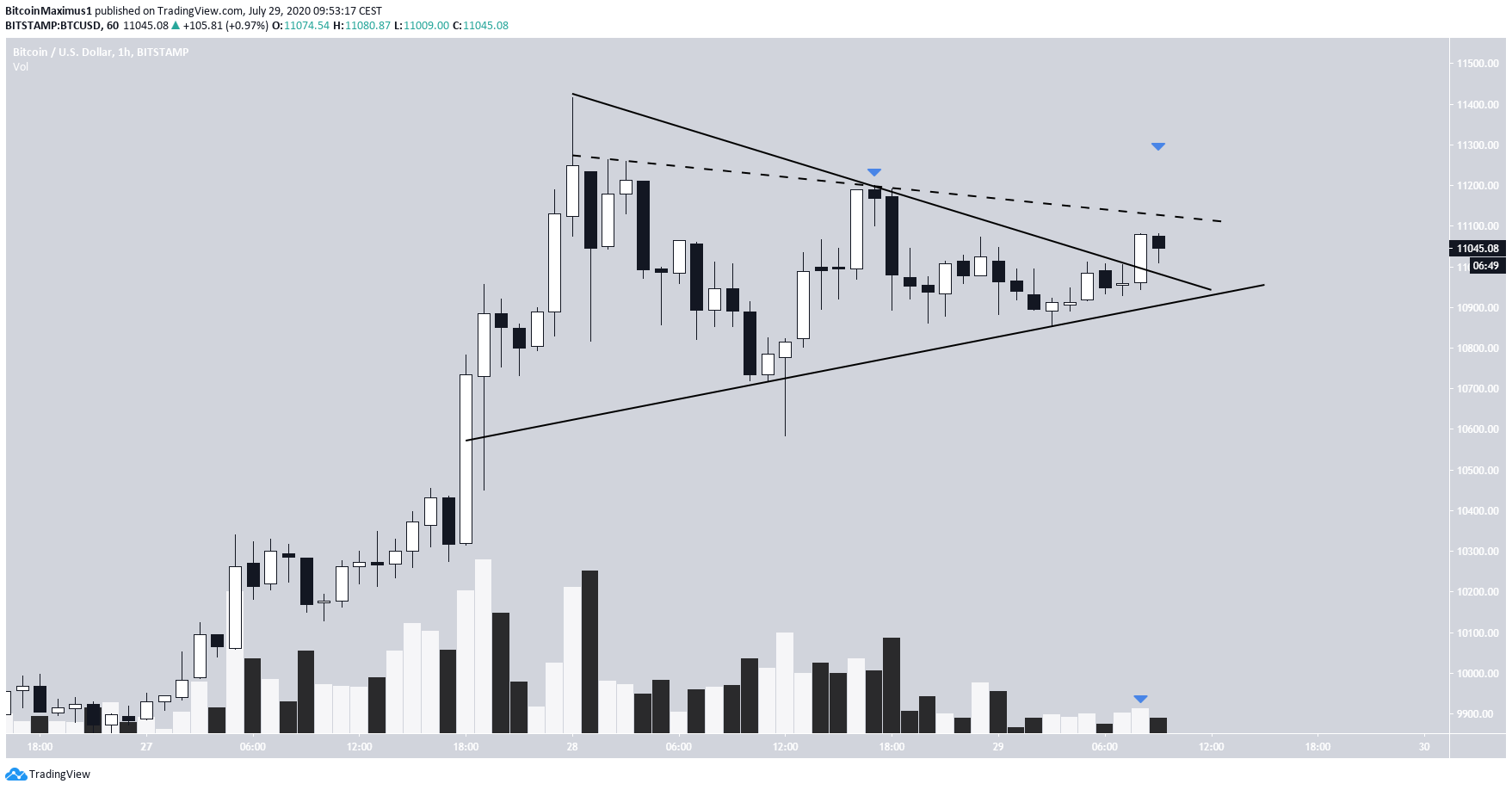 On a long-term chart the price is trading near the important area of long-term resistance at $11 700. Price could not reach that area, nor break it with Jul 2019.
On the other hand, the market has not tested the support area $10 300, bullish breakout which he recently did. It would be more logical if the first price again tested this area, and then made a bullish breakout of the $11 700.
However, note that this weekly chart. Perhaps in the short timeframe, the price will rise to resistance and then gives way to the support.
Thus, despite the extremely aggressive growth rate of BTC, the pair has not yet shown clear signs of weakening, which would indicate a coming pullback in the short term.