BTC/USD
Yesterday, the bitcoin price remained in a narrow sideways corridor in the region two-hour EMA55. During the day, the buyers tried to break the resistance level of average prices, but the bears did not allow the pair to settle above the moving average EMA55.
Today, at low activity of participants of the market, the pair will continue consolidation in average prices, while buyers still retain chances to break the resistance 9300.00 USD.
In conditions of market uncertainty, the market makers can manipulate the market with false breakthroughs. We believe that immediate support can be the upper border of the descending channel orange. The more time the price will be in consolidation, the deeper will the bears be able to roll back the price.
If the sellers will drive the pair in the orange corridor local down-trend, the price may test the stronger support 8600.00 USD.
ETH/USD
In response to yesterday's attempt of the buyers to break through the resistance of the two-hour EMA55, sellers said bearish momentum that rolled a few below the weak support around 225.00 USD tested the level of 100% Fibo (222.98 USD).
In the afternoon, trading volumes declined, and the couple settled down in a fairly narrow corridor at the level of weak support for 225.00 USD.
Today, at low volumes, the consolidation may continue, while retaining the possibility of a breakthrough to the resistance 233.33 USD. Nearest support is one hundred percent Fibonacci level, but strong bearish momentum the market-makers can roll back the pair to the area of the June low 215.79 USD.
XRP/USD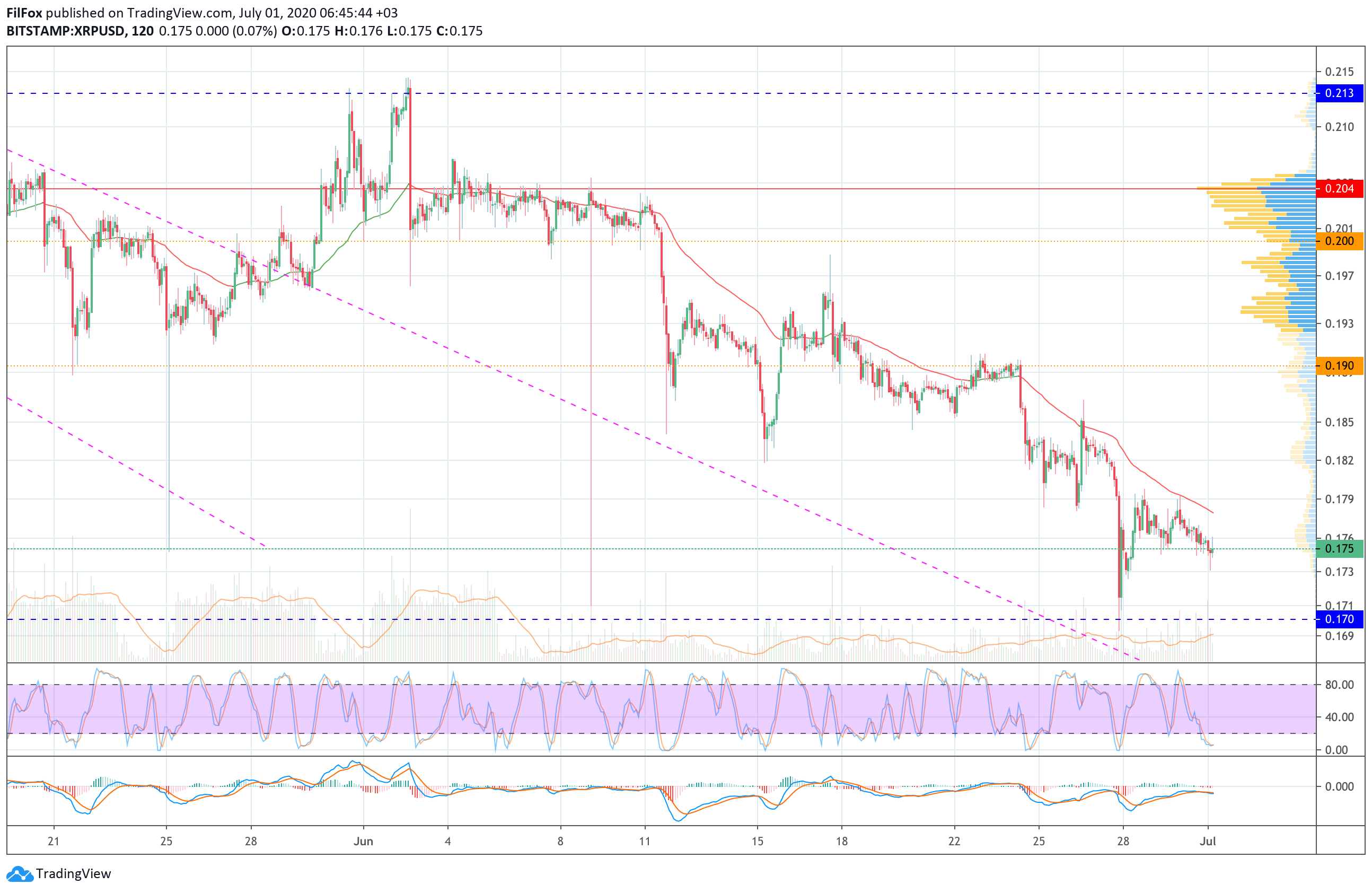 Yesterday in the morning the price of Ripple has undergone significant pressure from the bears. In the end, to the end of the day the pair dipped around 0.174 USD, and only in the morning were able to gain a bit more support 0.175 USD.
Now it is trading at low volumes, and if such a low market activity will continue throughout the day, the price will continue to move sideways. The upper boundary of this range will be a two-hour EMA55, and the lower — weak support 0.175 USD.
The intensification of the onslaught of bears will lead to re-test the strong support level 0.170 USD.
* All prices shown are based on data exchange BitStamp