Interest in the proposed cryptocurrency trading platform Bakkt deliverable bitcoin-futures are rising again. So, in March the volume of transactions to be settled in bitcoin has grown in comparison with the previous month by 44%.
Physical #BTC delivery on @Bakkt increased 44% in March, although being relatively flat in USD. Despite the recent market instability, Bakkt seems relatively unaffected. pic.twitter.com/sZ1XEWqVM9

— Arcane Research (@ArcaneResearch) March 25, 2020
«Physical supply of bitcoin in the Bakkt grew 44% in March, while the dollar value remains relatively constant. Despite recent market volatility, Bakkt not too injured,» – noted the analysts of Arcane Research.
The experts pointed to the overall drop in trading volume amid falling prices of bitcoin. According Bakkt Volume Bot, March 25 through Bakkt passed $7.7 million, the open interest amounted to $4.2 million.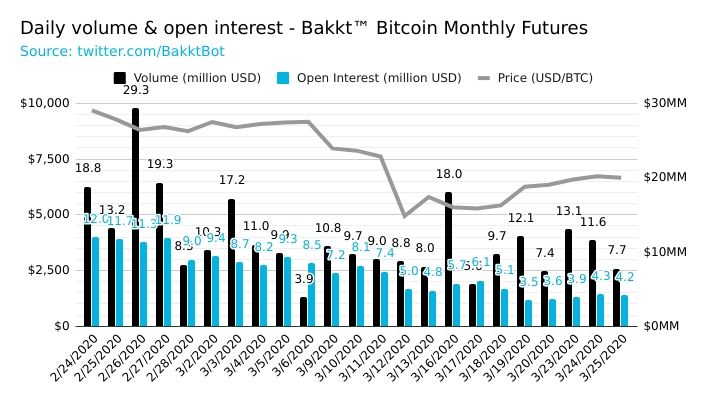 Launch trading in regulated futures calculation in bitcoins took place in September 2019, before the start of full operation of the Bakkt.
Read more about bitcoin futures read in the card ForkLog.