Sponsorship
Co-founder and CEO of cryptocurrency exchange Coinsbit Nicholas Uganski announced its withdrawal from the company. The entrepreneur sold a stake in the business and plans to develop IT projects for the markets of North America and Ukraine. The buyer of a share is not called.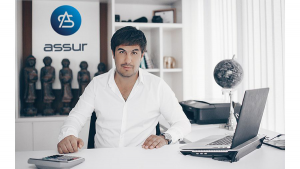 He Uganski explained the sale of shares of the desire to work in a jurisdiction with a more clear cryptocurrency regulations.
«I want to develop the stock exchange in clear legislation. Another obstacle to efforts at large- the absence of banks», — he said.
Speaking of exchanges, Uganski expressed skepticism:
«In 2020, 30% of the exchanges will cease to exist. For further growth of the market will need new people and clear regulation».
Coinsbit — Estonian cryptocurrency exchange based Udenskom in 2018. The company told about the activity of 10 thousand transactions per second and more than 1 million TCP connections. Exchange is integrated with 200 thousand POS terminals in South Korea, Vietnam, China and India. Representatives Coinsbit also noted that Nicholas had proved himself the post of CEO and has made a significant contribution to the development of the project.

In addition Coinsbit, Nicholas Uganski founded the software development company Prof-it and the insurance company ASSUR. In November, the businessman took first place among the businessmen from the CIS in the ranking «10 Blockchain Entrepreneurs from CIS to Follow» publications Hackernoon.
After leaving Coinsbit Uganski plans to take a job in several projects. In the first place it will develop a new stock exchange in Canada and an international marketing company PRMR.com.
The entrepreneur is also interested in investing in IT companies in Ukraine and said he intends to attract to the Ukrainian market of large players from Asia.
We will remind, earlier ForkLog reported about the launch of the referral program platform Coinsbit.