Most of the year bitcoin price showed negative correlation with the S&P 500 index, but since October the trend has changed dramatically, according to CoinDesk, citing data from Digital Assets Data.
The graph below shows that at the beginning and the middle of the year the negative correlation between BTC and S&P 500 reached 20-30%. However, with gold the same indicator showed positive dynamics.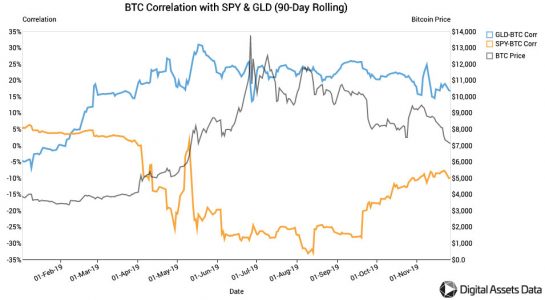 To date, the correlation of bitcoin with a «barometer of the American economy» is about at the level of -10%. This suggests that the first cryptocurrency, most likely, will not show growth during the turbulence on the stock market. In other words, since October, the bitcoin can hardly be considered a hedge during periods of global instability.
«A negative correlation was the support for theses on store of value and digital gold. Investors may have used bitcoin as a means of hedging during periods of global economic turmoil, shares his thoughts data researcher Kevin Kaltenbacher of Digital Assets Data. — Recent trends can destroy that stereotype.»
Anyway, now the price of BTC is almost two times above $3693, which is the first cryptocurrency the beginning of 2019. Co-founder of the Digitial Assets Data Eddie Alfred is sure that long-term investors should not worry about hedging properties of bitcoin.
«The current trend is an anomaly,» — said Alfred.
He added that since the advent of BTC such periods was observed in only 5% of the time.
Earlier, the gold advocate Peter Schiff said that the bitcoin has failed the test of a defensive asset.
Subscribe to the channel ForkLog in YouTube!