Bitcoin price in just a day fell to the levels around $11 000, and then showed a modest upward correction. However, according to the analyst Markets CoinDesk Omkara of Godbole, as long as prices stay above $9614, the probability remains bullish rally.
Godbole convinced that in case of closing the daily candle at UTC below $11 550, the chances of further decline will increase significantly. To cancel such a scenario bitcoin needs to return above $12 000 at a high volume.
It is noteworthy that known in the community trader Tone Weiss believes the fall to $3000 less probable event than updating the historical maximum, however, the collapse below $10 000 still can dramatically change the situation.
Always Bullish on #Bitcoin, but what does it mean for me to be Bullish on $BTCUSD?
— It means the probability of New All Time Highs at $20k is Greater than New Swing Lows at $3k
— This 'can' change with a drop under $10k — It just depends on IF, HOW & WHEN it drops under $10k

— Tone Vays [#UnderstandBit] (@ToneVays) July 11, 2019
«The question is IF, HOW and WHEN the price falls below $10 thousand.»
On the daily chart one can notice the formation of outside bearish candle on Wednesday, which is an early Herald of a possible reversal, suggested Godbole. However, this theory is confirmed just in case, if today is July 11 candle closes below previous day low at around $11 550.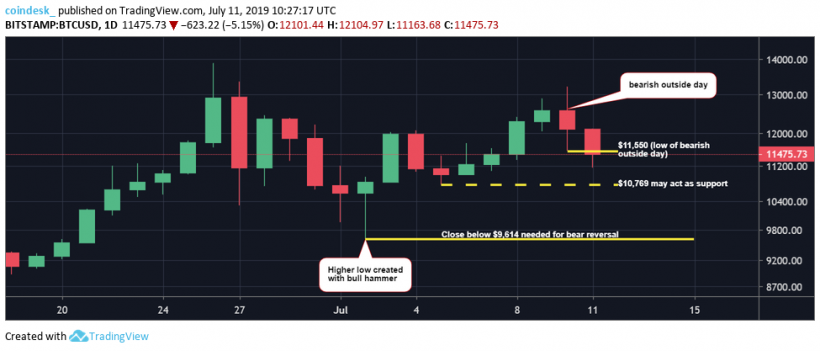 Data CoinDesk Markets
At the same time, the chances of return to the higher elevations are quite high, says the analyst.
On the hourly chart you notice the falling wedge: the trend line connecting the descending highs and lows narrowed. This speaks in favor of weakening sellers, a break of the wedge can be considered as a bullish pattern.
Data CoinDesk Markets
Therefore, the next significant resistance is around $12 200, and its passage will open the opportunity to overcome the barrier of $13 000.