8 consecutive days of bitcoin shows no inclination to move in any particular direction, while Litecoin continues to grow, draws the attention of CoinDesk analyst Omkar Godbole.
Price largest cryptovault ranges from 600-dollar channel June 5. Although all falling to $7, 500 were quickly played out, the bulls also failed to gain a foothold above $8 100.
At the time of publication, bitcoin is trading around $8 000, rising in recent days by 2%.
While bitcoin is trying to decide the further movements of the major altcoins like Ethereum, XRP, Bitcoin Cash and EOS have to wait.
Litecoin, however, a day gained 9.5% and is trading around $140 – the highest level since last may. For the week the growth of Litecoin was about 35% while the bitcoin has risen 4%.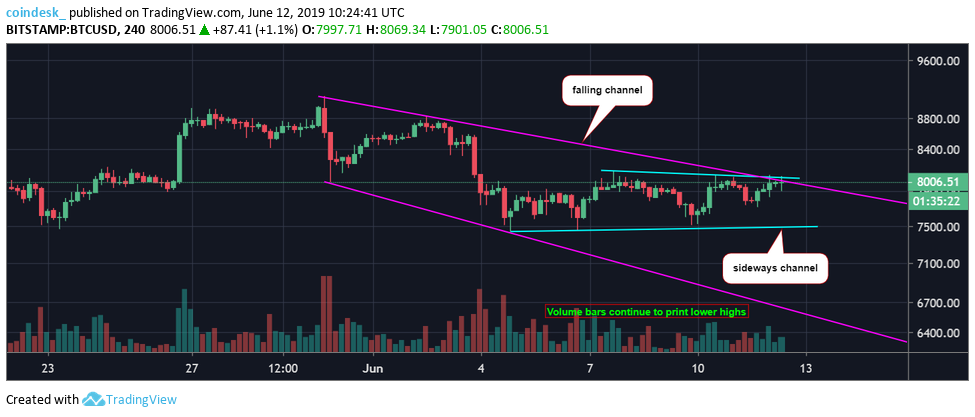 On the four-hour chart, the bitcoin remains in a descending channel. A rise above $8 063 confirms the breakthrough of two channels and will open the way to $8 500. However, this break may be short-term, if trading volumes do not increase.
On the other hand, the highest minimum at $7 713 corresponds to the nearest support. After passing this point, bitcoin can reach the bottom of the channel near $7 500.
The relative strength index (RSI) Litecoin indicates the break of the symmetrical triangle is a sign of bullish trend continuation. In addition, in the days of growth rates, trading volumes were higher than in the days of the fall that can serve as an additional confirmation of this pattern.
Be aware that for the last 6 weeks, the cryptocurrency has grown on 118%, so before the next breakthrough may decline to $122, if the bulls wants to take a breather, analysts say.