Strong overbought and a number of other technical factors have served as barriers to bitcoin prices on its way to around $6000, I'm sure CoinDesk analyst Omkar Godbole.
According to analysts, the price of the first cryptocurrencies need to stay above $4912. Otherwise, BTC might fall back to $4625, through which now passes the 200-day moving average.
Bullish sentiment will increase if the price will break the $5347 corresponding to the maximum weekly candle Doji indicating uncertainty. This would open the door to the psychological mark of $6000, however, a significant obstacle to it would be the overbought relative strength index (RSI).
Confident the upward movement was suspended due to several factors, among which the short-term overbought market and a decline in trading volume amid rising prices.
Overbought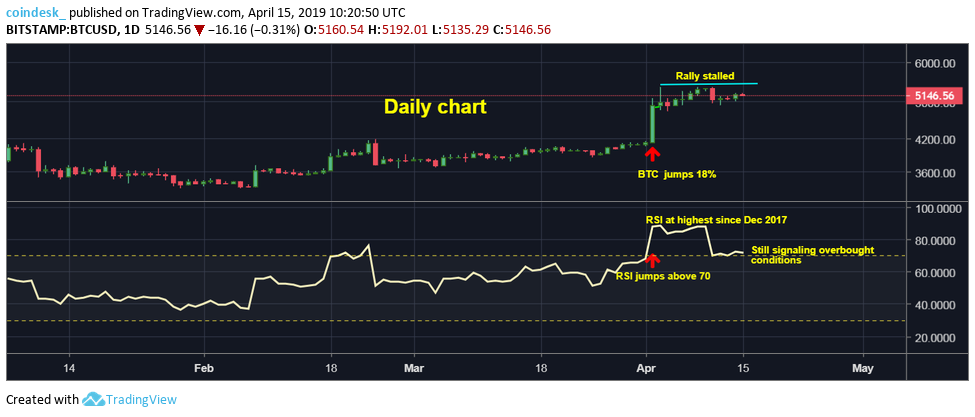 The relative strength index on 2 April were in the overbought area, above the 70.00 mark. It happened against the background of the sharp rise in prices above $5000. As you move up to $5345 RSI for the first time since Dec 2017 reached a value of 90.
Usually after the strong sell-price or rolled back down, or goes in «sideways». Currently, the RSI remains in the area above $ 70.00, but gradually the indicator values are decreasing, indicating an increasing probability of price adjustment.
Declining trading volumes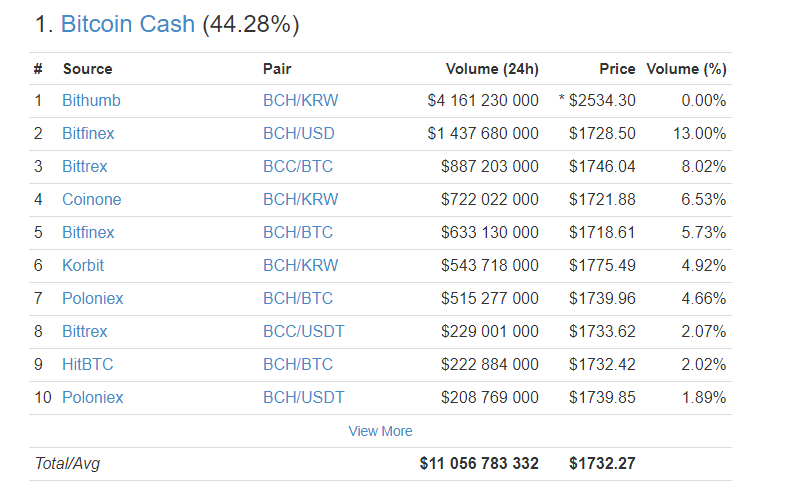 Drawing attention to the Volume indicator, you can see that soon after the jump to around $5000, and subsequent move to $5347, trading volume was declining. Thus, formed a bearish divergence, indicating a high probability of a pullback towards $4912 which corresponds to the local minimum from April 11.
Note that in the last two weeks of daily trading volume declined from $24 billion to $10 billion apparently, the recent strong recovery in prices was only short-term.
The four-hour chart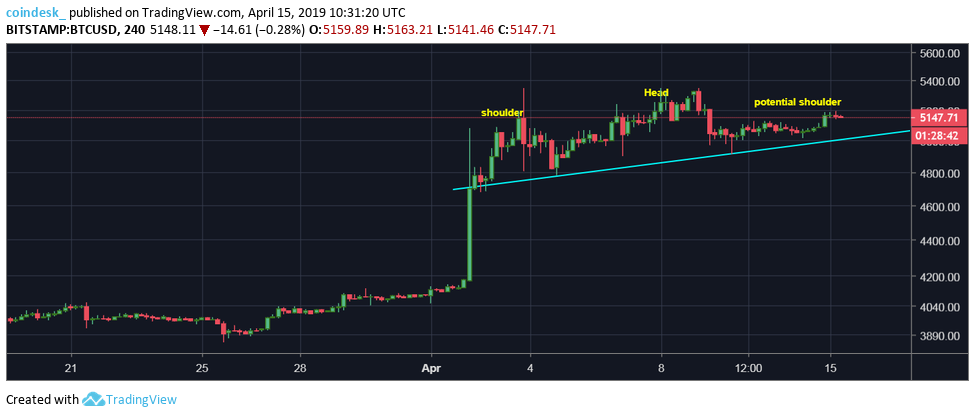 On a smaller timeframe the bearish pattern formed «Head and shoulders». If the price will fall below the line of the «neck» that passes through $4988, the next likely target will be the level of $4629.
Currently, the first cryptocurrency is trading at $5140. In the last days, weighted average rate of BTC increased by 1.3%.
We will remind, recently the head of BKCM LLC Brian Kelly expressed his opinion that within two years, the price of bitcoin will update the historical maximum.